Noblesville Dentist with Flexible Cleaning Options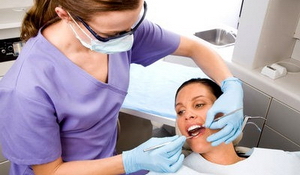 We are a Noblesville dentist with flexible options to make your visit to the dentist as anxiety-free as possible. For some, the worst part about getting your teeth cleaned is having your teeth scraped. Although scraping your teeth to remove plaque and tarter buildup is an essential part of having your teeth properly cleaned, it is not the only method available.
Another option is the Ultrasonic. Ultrasonic cleaning is a painless new method that provides patients with a cleaning that is as thorough as a manual cleaning. The ultrasonic cleaning machine reaches below the gum line to remove the tartar and plaque there, but does not damage the teeth. People with periodontal disease deal with many tooth problems. Their teeth tend to be loose and not secure beneath the gum line. The ultrasonic cleaning is ideal for them because the tip does not put pressure on the tooth itself. Think of it as a power washer for your teeth (we promise it is not painful though).
See what Justin, a seasoned veteran of the Ultrasonic, has to say about his experience in the video below.